Expert Air Conditioning Installations, Servicing & Maintenance
As a REFCOM FGas registered business Ventilation Surveys & Services can undertake the installation or maintenance of all single split to multi Variable Refrigerant Volume (VRV) or Variable Refrigerant Flow (VRF) systems.
If it is air conditioning installation or PPM support packages that are required we are able to support your needs in either commercial or residential properties.
Why should commercial air conditioning units be regularly maintained?
It is important to ensure that your air conditioning units function in a safe and efficient manner. All details relating to the units should be collected and stored as per the FGAS regulations. 
Air conditioning units use refridgerants. All of these coolants are chlorofluorocarbons that pose several dangers to human life. Therefore, they must be disposed of very carefully. If your air conditioning system is not cooling your room as well as it used to or if your evaporator coils are suddenly covered in ice, it is most likely because your air conditioning gas is leaking. Leaking can cause irreversible damage to your machine's compressor, significantly increase your overall electricity consumption and most importantly, pose a substantial danger to human health.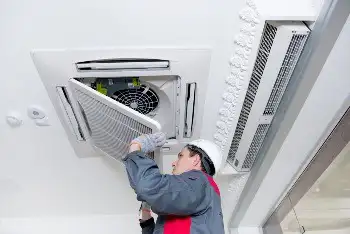 Are your air conditioning systems compliant?

An up-to-date register of all refrigeration and commercial air conditioning systems for all premises are required.

A record of each system covering, types and quantities of FGas contained and further information on addition or recovery, through to end of life.

A plan of leakage detection checks including frequency of checks.

The names of the companies undertaking any installation, servicing, and maintenance or leak detection work.

Relevant competency details and qualifications for all personnel air conditioning installation, servicing and maintaining refrigeration or air conditioning systems or wishing to take delivery of containers of FGas.

The results of all inspection, leak test, servicing etc. for each system.

Copies of all relevant certificates, service reports etc. relevant to each system. The up-to-date labelling of any new systems installed stating type and quantity of refrigerant used.
Why choose Ventilation Surveys & Services Limited?
Our HVAC engineers are qualified professionals who will ensure that you have an expert and trusted one-stop shop for all your requirements.

All of our air conditoning system work is supported by digital worksheets that detail any defects, parts used or required and digital images of the equipment before and after service or air conditioning installation.
We provide Major & Minor Service and Energy efficiency visits based on previous assets register every 6 months. The servicing will include cleaning the following on each unit:
Air-Conditioning Unit Ceiling Cassette
Air-conditioning Wall-mounted Units
 As well as our commercial air conditioning services and repairs, we can provide refrigeration services, HVAC, and Chilled Water systems.