DUCTWORK LEAKAGE
Expert ductwork leakage inspections, sealing and verification services.
ENQUIRE HERE
ABOUT
Leaky ductwork can waste energy, cause uneven temperatures, and affect indoor air quality by allowing dust, allergens, and pollutants to enter.
Our certified technicians can help eliminate leaks in your ductwork, improving energy efficiency, indoor air quality, and overall comfort in your business.
We can provide a cost-effective and efficient alternative to traditional duct sealing methods such as manual sealing or duct replacement, with minimal disruption to your business.
WHY IS IT IMPORTANT?
Duct leakage can result in up to 30% energy loss and may cost you money on heating and cooling bills. Air quality is reduced, as dust, allergens, and pollutants enter your workspace. Duct leakage can also create drafts and hot or cold spots in your building.
Duct sealing improves the energy efficiency of your HVAC system, prevents the entry of pollutants, and improves indoor air quality. Sealing ducts also helps to distribute air evenly, eliminating drafts, and enhancing comfort.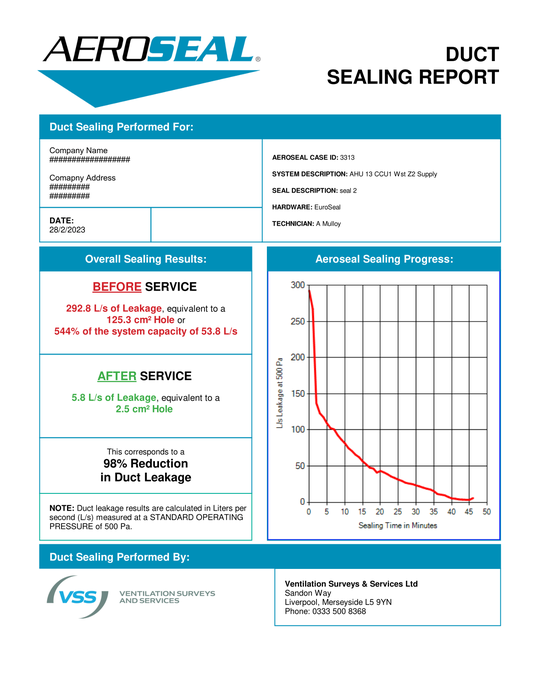 OUR SERVICES
Inspection: Our trained technicians conduct a thorough inspection of your ductwork to identify leaks using state-of-the-art equipment.
Sealing: We use a breakthrough duct sealing technology called Aeroseal, which uses a patented process to seal duct leaks from the inside out. We inject the sealant into the ductwork, which is carried by the air flow to the leaks and bonds to the edges.
Verification: Our engineers use advanced diagnostics to measure the improvement in duct leakage and ensure a successful seal.
ENQUIRE HERE
WHY VSS?
Qualified Professionals
Our engineers are experienced and qualified professionals who provide expert solutions to prevent ductwork leakage.
Nationwide Coverage
With multiple office locations across the UK and Northern Ireland, we can serve your needs wherever you are located.
Any Sector
From mechanical and electrical, to facilities management, hospitals, manufacturing and hospitality, we're able to support your needs in any commercial setting.
Digital support
Our innovative service support software allows for real-time reporting and rapid turnaround of service and inspection documentation.
ENQUIRE HERE
WHAT OUR
CUSTOMERS ARE SAYING
"We were recommended to use VSS and are really happy with both the price and service."
"Well experienced knowledgeable engineers and reports are always returned as soon as works are completed and are to the best standard."
"The team have shown themselves to be professional and competent from the offset."
"Good company to deal with, fair prices and I have recommended already to a friend who runs a restaurant in Liverpool."
"Would recommend VSS. Great bunch of lads to work with and will be using again in another building we work from."